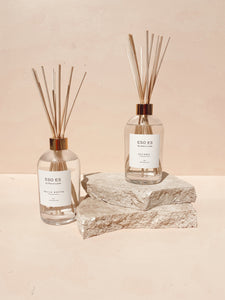 Scent of Peach Nectar, Peony & Leaf Green 
"Life, now, was unfolding before me, constantly and visibly, like the flowers of summer that drop fanlike petals on eternal soil."
―Roman Payne, Rooftop Soliloquy
Scented oil diffuser with 8 natural reeds.
Direction: Place the reeds into the diffuser. As the reeds absorb the oil, they will begin to release scent into the air.
To refresh the scent, remove the reeds and turn them upside down every few days.
Vegan friendly, cruelty free, paraben & phthalate free

Please refer to Caring For Your Reed Diffusers in our FAQs for more information.