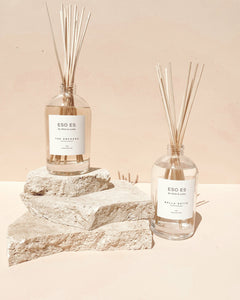 Scents of Cucumber, Sage Leaf & Lavender
Light this candle to clear your home and your heart for new life. 
"The moment a child is born, the mother is also born. She never existed before. The woman existed but the mother, never. A mother is something absolutely new."  -Rajnessh
Scented oil diffuser with 10 natural reeds.
We use natural fragrance oils in our diffusers. This means the colour can vary between each scent. 

Direction: Place the reeds into the diffuser. As the reeds absorb the oil, they will begin to release scent into the air.
To refresh the scent, remove the reeds and turn them upside down every few days.
Vegan friendly, cruelty free, paraben & phthalate free

Please refer to Caring For Your Reed Diffusers in our FAQs for more information.